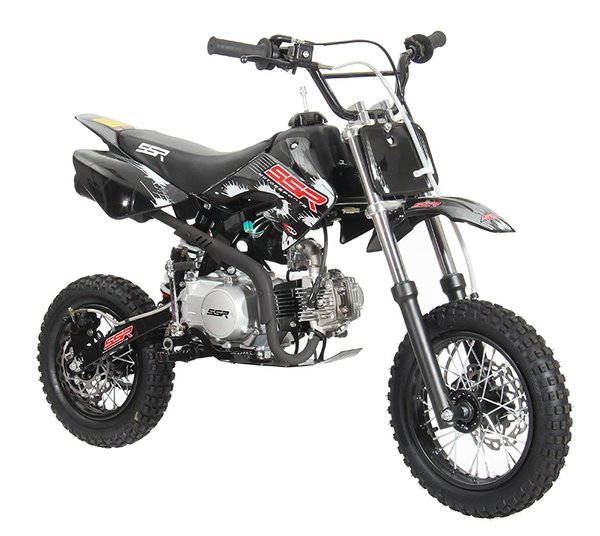 SSR Motorsports SR110
Description:

Stunning looks and spectacular performance makes this SSR SR110 Pit Bike a dirt bike like no other. SSR SR110 is the one of the best dirt bikes you can get in the market for less than $700. This bike was designed by experts and used by all levels of riders from kids to adults.

This powerful and sleek SR110 - 110cc, 4 stroke air cooled kick start dirt bike is the ultimate pro biker's choice for both competition and racing. No electric start on our dirt bikes, makes them lighter, in turn making big jumps easier. Plus, you will never have to worry about problems caused by electrical components and circuits with our dirt bikes! We take great pride and pay close attention to detail when designing our bikes to ensure you will have a smooth, comfortable and exhilarating ride!

SSR SR110 is the ultimate dirt bike in its class. It is a fully modified dirt bike that rides on a modified frame with all the aftermarket upgrades riders crave! The SSR Pro-Racer comes in a Fully Manual Transmission for the riders seeking the ULTIMATE control

The front suspension has been upgraded to hydraulic forks and the latest and greatest versions boast an upgraded adjustable rear shock. With so many upgrades from the CRF/XR50, and under a third of the price, the SSR 110cc is an absolute steal!

SR110 Specifications:

Consistent Quality and Reliability Delivered by HIGH STYLE MOTORING
by the Leading Dirt Bike and Pit Bike Manufacturer - SSR
Engine/Drive Train all Top of the Line!

Features:


Powerful Fast Dependable 110cc Engine
Four Stroke, Single Cylinder Forced Air Cooled Engine
4 Speed Fully Manual Transmission
Chain Driven- Durable and Easy to Maintain and Repair.
Kick Start Starting System
High Quality and Rugged Engine
Body / Suspension / Brakes All State of the Art
Front Hydraulic Forks with Springs for a Smooth, Comfortable Riding Experience
Steel Swing Arm with Adjustable 265mm Shocks
High Performance Exhaust - Kicks Ass!
2.75-12 Front / 3.0-10 Rear Tires - Offer Supreme Traction and Control While Riding
Dual Front and Rear Disc Brakes Provide Incredible Stopping Power!

Additional Features:

Thick Padded Seat for a Comfortable Feel and Superior Ride.
Advanced Straight Line Swing Arm.
New Design! Fits Adults!
New Foldable Gear Shift.
Heavy Duty Rubber Bushing in the Swing Arm with an Added Washer to Prevent Wear!
New Heavy Duty Upgraded Shocks.
Upgraded Black Rims
Large .8 Gas Tank.
220 lb Capacity! Built Strong and Tough!

SSR110 - 110cc Pit Bike


Frame - Steel Back Bone
Swing Arm - Steel, "Straight" Type
Engine - 110 cc.
Engine Type - 4 Stroke, Single Cylinder, Air Cooled
Transmission - Manual Clutch with 4 Speeds
Start Mode - Kick Start
Rated Power - 4.85 hp/7500 rpm Max Power 6.71 hp
Fuel Tank - .8 gal
Carburetor - 22 mm Keihin
Shocks (front) - Hydraulic, Conventional
Shocks (rear) - 265mm, Preload Adjustable
Wheels - Front/Rear 12/10" Steel
Tires - Front 2.75-12; Rear 3.0-10
Front Brake - Wavy Rotor Disc
Rear Brake - Wavy Rotor Disc
Min. Ground - 7.0 in.
Seat Height - 28 in.
Wheel Base - 41.5 in.
Weight - ~145 lbs.

Top Speed - 45 M.P.H.

Reviews