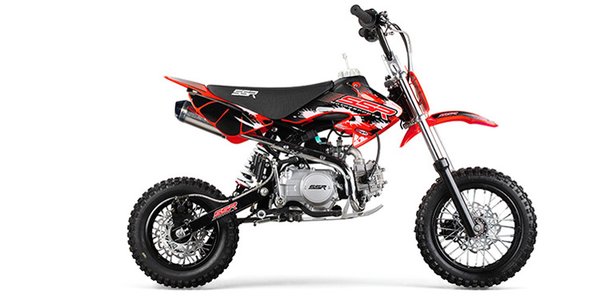 SSR Motorsports SR110-DX
Description:
SSR SR110 DX from High Style Motoring offers super lightweight aluminum components in a compact racing pit bike. Tons of aluminum upgrades on this 110cc mini dirt bike make it one of the most lightweight and fun pit bikes on the market.
Aluminum wheels, aluminum handlebars, aluminum skid plate and billet fuel cap sets the SR110DX apart from your more common mini dirt bikes. The cost of these custom aluminum upgrades is very minimal considering that if you bought these components separately you'd be looking at over $200.

This 110cc pit bike is only available in a 4 speed manual transmission version and is capable of speeds in excess of 45 MPH. Dual hydraulic disc brakes front and rear are standard.
Looking for a lightweight 110cc SSR pit bike? Get yours today from the Nationwide leader in power sports - High Style Motoring!!!

Specifications:

Consistent Quality and Reliability Delivered by HIGH STYLE MOTORING
by the Leading Dirt Bike and Pit Bike Manufacture - SSR
Engine/Drive Train all Top of the Line!
Features:

Powerful Fast Dependable 110cc Engine.

Four Stroke, Single Cylinder Forced Air Cooled Engine.
4 speed Fully Manual Transmission.
Chain Driven- Durable and Easy to Maintain and Repair.
Kick Start Starting System
High Quality and Rugged Engine

Body / Suspension / Brakes All State of the Art

Front Hydraulic Forks with Springs for a Smooth, Comfortable Riding Experience.
Steel Swing Arm with Adjustable 265mm Shocks.
High Performance Exhaust - It Really Rips!
2.75-12 front and 3.0-10 Rear Tires for Tremendous Traction and Riding Control
Dual Front and Rear Disc Brakes Provide Incredible Stopping Power!


Additional Features:

Thick Padded Seat for a Comfortable Feel and Superior Ride.

Advanced Straight Line Swing Arm.
New Design! Fits Adults!
New Foldable Gear Shift.
Heavy Duty Rubber Bushing on Swing Arm with an Extra Washer Helps Prevent Wear!
New Upgraded Shocks.
Pro Racer Rear Hub Design is Standard on this Incredible Bike!
Upgraded Black Rims
Large .8 Gallon Gas Tank.

220 lb Capacity - Built Strong and Tough!


SSR 110 DX - 110cc Pit Bike


Frame - Steel Back Bone
Swing Arm - Steel, "Straight" Type
Engine - 107 cc.
Engine Type - 4 Stroke, Single Cylinder, Air Cooled
Transmission - 4 Speed Manual Clutch
Start Mode - Kick Start
Rated Power - 4.85 hp/7500 rpm Max Power 6.71 hp
Fuel Tank - 0.8 gal
Carburetor - 22 mm Keihin
Shocks (front) - Hydraulic, Conventional
Shocks (rear) - 265mm, Preload Adjustable
Wheels - Front/Rear 12"/10" Anodized Alloy - Pro Hub
Tires - Front 2.75-12; Rear 3.0-10
Front Brake - Wavy Rotor Disc
Rear Brake - Wavy Rotor Disc
Min. Ground - 8.50 in.
Seat Height - 28.0 in.
Wheel Base - 41.5 in.
Weight - ~145 lbs.

Top Speed - 45 MPH
Reviews