SSR SR70C - 70cc Dirt Bike | Pit Bike For Kids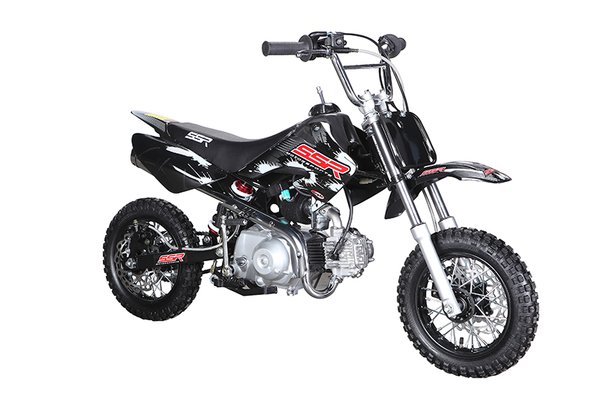 SSR SR70C - 70cc Dirt Bike | Pit Bike For Kids
COMPARE the SSR SR70 (base model) Pit Bike with the SSR SR70C (upgraded model) Kids Dirt Bike in this high definition video:



SR70c Specifications:

Consistent Quality and Reliability Delivered by HIGH STYLE MOTORING by the Leading Dirt Bike and Pit Bike Manufacture - SSR
Engine and Pit Bike Drive Train all Top of the Line!

Here is the best "Bang for the Buck" entry level pit bike on the market today. The SSR SR70C really packs a punch and is considered to be one of the highest quality mini dirt bikes on the market today. Perfect for young beginners and versatile enough to accommodate adult riders as well.


The quality to price ratio on this pit bike is second to none. The SSR SR70C includes all of the custom features of the SR70 but includes the dual disc brake upgrade, over sized rear mono shock and hydraulic front forks for just a few dollars more.
The upgraded suspension makes the seat height of the SR70C about 29 inches which is 1 inch taller than that of the SR70. Top speed is approximately 39 MPH.

Features:

Powerful Fast and Reliable 72cc Engine

Four Stroke, Single Cylinder Forced Air Cooled Engine

4 speed Semi-Automatic Transmission

Chain Driven- Durable and Easy to Maintain and Repair

Kick Start Starting System

High Quality and Rugged Engine

Body / Suspension / Brakes All State of the Art!

Front Hydraulic Forks with Springs for a Smooth Comfortable Riding Experience

Steel Swing Arm

High Performance Exhaust - It Really Rips!


Additional Features:

Thick Padded Seat for a Comfortable Feel and Superior Ride.

Advanced Straight Line Swing Arm.
New Design
New Foldable Gear Shift.
Heavy Duty Rubber in the Swing Arm with an Added Washer to Prevent Wear!

New Upgraded Front and Rear Shocks.
Upgraded Black Rims

Description:


It never ceases to amaze me every time I take control of one of these mini dirt bikes how quick and agile it really is. I'm 6' tall, 190 pounds and this SSR SR70C provides a consistent and quality ride every time. The low profile and compact size makes it a snap to transport in nearly every vehicle. It is also priced for less than you will find many used pit bikes selling for.

SSR Pit Bikes are great for beginners to learn on. They are a super value over even used mini dirt bikes and with the radically designed decal kit you'll be the sharpest rider on the off road trails. Retaining awesome looks and extreme durability this pit bike is the one you want to show off to your friends. We offer various models of SSR Pit Bikes, from Manual to Semi Auto to fully Automatic. This means whether you are just starting out or looking for a fun SSR pit bike to zip around on -- we've got you covered.

The front suspension has been upgraded to hydraulic forks and the latest versions boast upgraded front forks and an adjustable rear shock. With so many upgrades from the CRF/XR50, and half the price, the SSR SR70C is an is priced less than used pit bikes.
SSR70C

Frame - Steel Back Bone
Swing Arm - Steel, "Straight" Type
Engine - 72cc.
Engine Type - 4 Stroke, Single Cylinder, Air Cooled
Transmission - Semi-Auto, 4 Speeds
Start Mode - Kick Start
Rated Power - 4.02 hp/7500 rpm Max Power 4.69 hp
Fuel Tank - .8 gal
Carburetor - 19 mm keihin
Shocks (front) - Hydraulic, Conventional
Shocks (rear) - 265mm, Preload Adjustable
Wheels - Front/Rear 10/10" Steel
Tires - Front 2.5 -10; Rear 2.5 -10
Front Brake - Wavy Disc
Rear Brake - Wavy Disc
Min. Ground - 5.85 in.
Seat Height - 23 in.
Wheel Base -39.5 in.
Weight - ~125 lbs.
Reviews