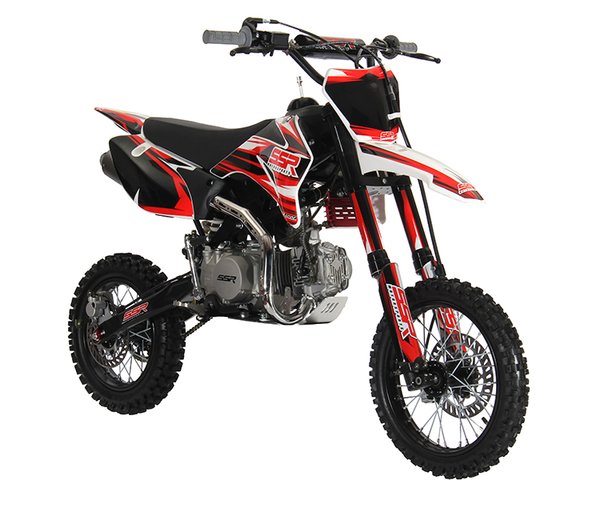 SSR SR140-TR
NEW ARRIVAL! The 140 TR - Trail Bike

The latest and greatest from SSR Motorsports has arrived!

HIGH STYLE MOTORING GUARANTEES THE LOWEST PRICE AND FASTEST SHIPPING on the SSR SR140TR - PERIOD!

STYLE - POWER - COMFORT

SSR 140 TR from HIGH STYLE MOTORING is a newly introduced and super high powered trail bike offering state of the art suspension and trail riding capabilities for the more demanding trail bike rider. This 140cc dirt bike is available with a standard 4 speed manual transmission, 140cc motor, aluminum oil cooler and front USD rebound and rear adjustable suspension.

Trail motorcycles are becoming more and more popular these days for not only the younger crowd but for the adults as well. This SR140TR 140cc features a sturdy design and super high quality rugged suspension components. The custom graphics will set you apart from the crowd and the 4 speed manual transmission will give you the control you demand on virtually any terrain. Ride anywhere trail bikes need to travel!

Buy your trail bike today direct from HIGH STYLE MOTORING today and save!
SSR SR140TR SPECIFICATIONS:
140cc Trail Motorcycle
Frame Double Bar Steel
Swing Arm Steel, "Straight" Type
Engine 140cc YX 4 Stroke
Engine Type 4 Stroke, Single Cylinder, Air Cooled
Transmission 4 Speed Manual, Start in Any Gear
Start Mode Kick Start
Rated Power 7 hp/7500 rpm
Fuel Tank 1.45 gal
Carburetor 26 mm. Mikuni Japanese
Front USD Rebound Adjustable
Rear 290mm Shock, Adjustable Rebound Only
Wheel Front/Rear 14/12" Steel
Front Brake Wave Rotor Disc
Rear Brake Wave Rotor Disc
Min. Ground 12.0 in.
Seat Height 32.00 in.
Wheel Base 48 in.
Weight 170 lb

Top Speed - 65 MPH
Reviews